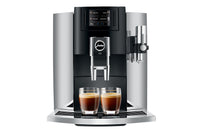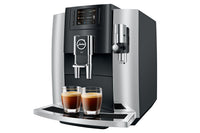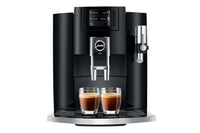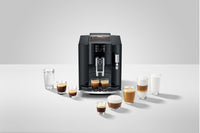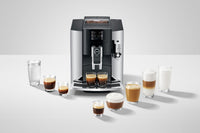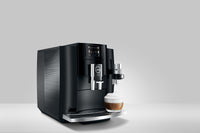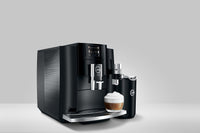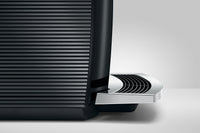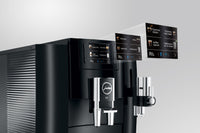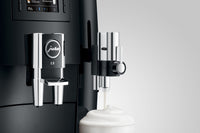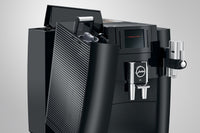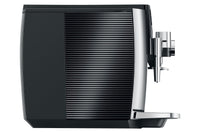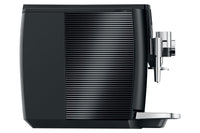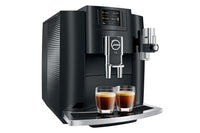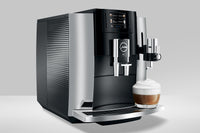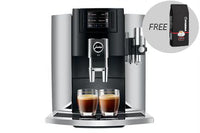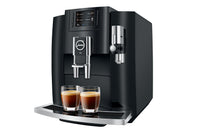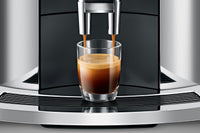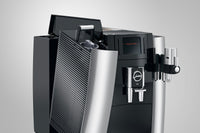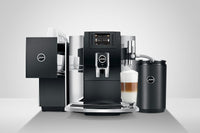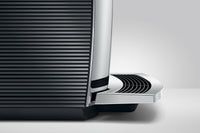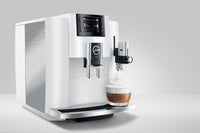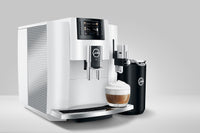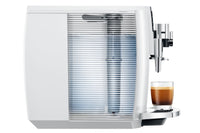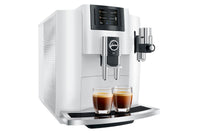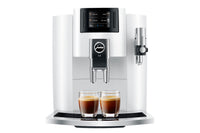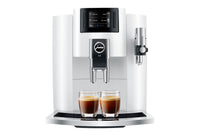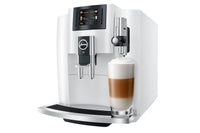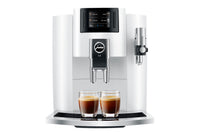 E8 (Gen 2) - Certified Factory Refurbished
Features
Specifications
Included in the Box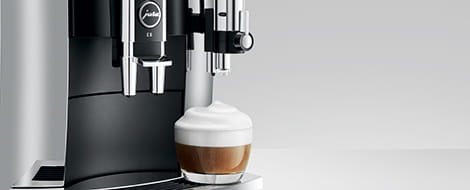 Professional fine foam frother G2
The new professional fine foam frotherG2 is made from the highest-quality materials and has a stunning look and feel. Specially designed for the preparation of coffee specialties with milk and milk foam, it makes latte macchiato and other beverages with the very best fine-textured foam every time and never fails to impress with its particularly intuitive operating concept.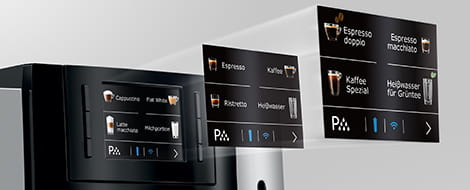 50% more specialties
JURA's most successful coffee machine has been refined even further. The E8 now prepares a total of 16 different specialties at the touch of a button. It now also offers hot water for green tea, special coffee, espresso doppio and espresso macchiato at the touch of a button.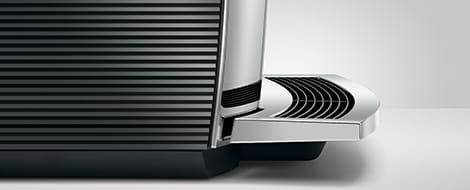 More beautiful than ever
The water tank in premium ridged design accentuates the clear design concept. The tactile qualities of the tank's metal handle convey quality. What's more, the new, chrome-plated cup grille superbly showcases the perfect coffee specialties. And on top all of these features, it's great to look at too!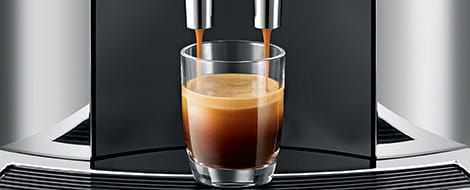 P.E.P.® for espressi of outstanding barista quality
A number of top innovations ensure that both classics and trend specialties can be created with breathtaking quality: The AromaG3 grinder is now twice as fast yet preserves all the delicious aroma of the coffee beans. The Pulse Extraction Process (P.E.P.®) ensures the optimum extraction time for a short specialty and delivers a taste explosion for the ristretto and espresso.
Products
Ristretto
2 x Ristretto
Espresso
2 x Espresso
Espresso doppio
Macchiato
Coffee
2 x Coffee
Special coffee
2 x Special coffee
Cappuccino
Latte macchiato
Flat white
Portion of milk
Hot water
Hot water for green tea
Number of products
16
| | |
| --- | --- |
| One-Touch function | Yes |
| Intelligent Water System (I.W.S.®) | Yes |
| Compatible with J.O.E® | Yes |
| Wireless ready | Yes |
| Powder recognition for additional ground coffee variety | Yes |
| Monitored drip tray | Yes |
| Aroma preservation cover | Yes |
| | |
| --- | --- |
| Pulse Extraction Process (P.E.P.®) | Yes |
| Variable VC brewing unit | 5 - 16 g |
| Intelligent Pre-Brew Aroma System (I.P.B.A.S.©) | Yes |
| Grinder | Multi-level AromaG3 grinder |
| High-performance pump, 15 bar | 1 |
| Thermoblock heating system | 1 |
| JURA fine foam technology | Yes |
| Milk system | HP3 |
| Maintenance status display | Yes |
| Integrated rinsing, cleaning and descaling programme | Yes |
| Integrated milk system rinsing and cleaning programme | Yes |
| JURA hygiene: TÜV-certified | Yes |
| Filter cartridge | CLARIS Smart |
| Energy Save Mode (E.S.M.©) | Yes |
| | |
| --- | --- |
| Programmable and individually adjustable amount of water | Yes |
| Programmable and individually adjustable coffee strength (Levels) | 8 |
| Programmable brewing temperature (Levels) | 2 |
| Programmable temperature of hot water (Levels) | 3 |
| Programmable switch-off time | Yes |
| | |
| --- | --- |
| Display | TFT color display |
| Amber / white cup illumination | Yes |
| Powder chute for ground coffee | Yes |
| | |
| --- | --- |
| Height-adjustable coffee spout | 65 - 111 mm |
| Height-adjustable cappuccino spout | 107 - 153 mm |
| Height-adjustable hot water spout | 107 - 153 mm |
| Water tank capacity | 1.9 L |
| Bean container holding capacity | 280 g |
| Coffee grounds container (max. servings) | 16 |
| Cable length | 1.1 m |
| Voltage / Power | 120 V ~ / 1450W |
| Ampacity | 10 amp |
| Stand-by power | 0 Watt |
| Weight | 9.8 kg |
| Width | 28 cm |
| Height | 34.6 cm |
| Depth | 44.4 cm |
| Article Number | 15271 |
| Model year | 2019 |
(1) Jura E8 Pianoblack
(1) Jura Care kit which includes: Pack of 2 Cleaning tablets, 1 Claris Smart Filter, User Manuals, 1 Pre-ground Coffee Scoop, 1 Hose with Connector, 1 100ml Cappuccino Cleaner, 1 Microfiber Cleaning Cloth, 1 Easy Cappuccino Cleaning Container, 1 Water Spout Attachment, 1 Filter Extension and 1 Water Hardness Testing Strip.
(1) 1KG FAEMA Tradizionale Espresso Beans