E8
Features
Specifications
Included in the Box
The First Class of Coffee Quality
The Professional Aroma Grinder produces 12.2% more aroma with consistent grind and ideal taste. The Pulse Extraction Process (PEP®) ensures a perfect extraction every time at the optimal temperature and taste from the very first cup.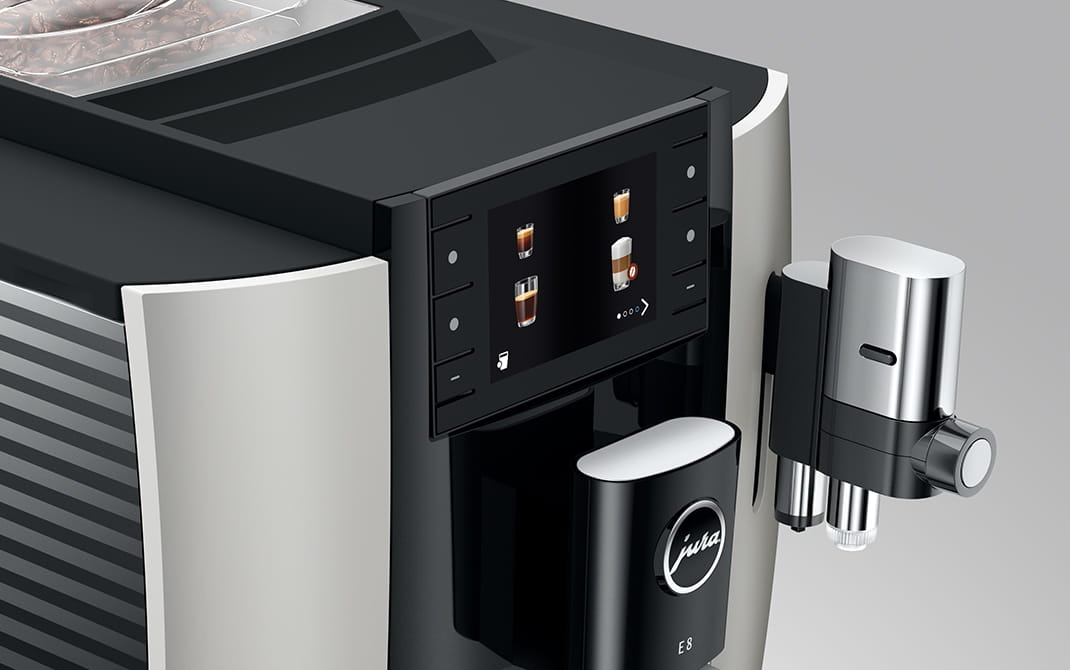 User Friendly Interface
Six simple buttons control the 2.8" colour display to easily select your favourite coffee beverage. The integration of artificial intelligence on the home screen will ensure that your favourite beverages are automatically shown on the home screen. With more customization than ever the JURA E8 provides the ultimate coffee experience, from bean to cup with a simple touch of a button.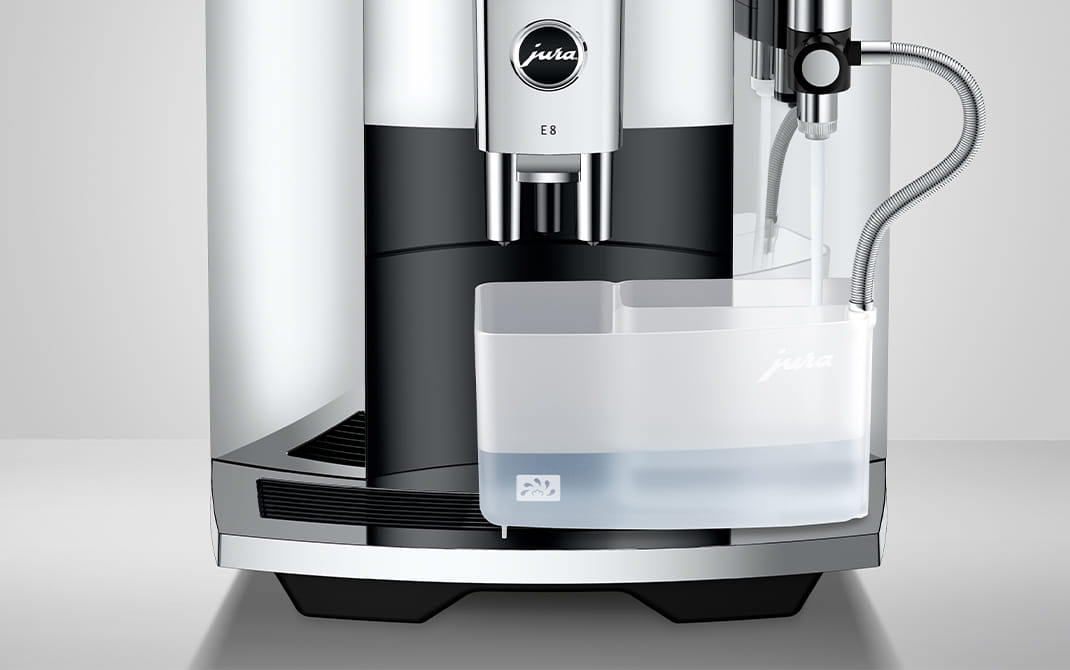 ALL NEW One-Touch Milk System Cleaning
The one-touch milk system cleaning process is now easier than ever. Simply place the JURA milk system cleaner container with the solution in it, and with one touch of a button the E8 will automatically fill the container with hot water and go through the cleaning process with no other interactions needed. This means you can spend less time cleaning and more time enjoying your favourite milk based beverages. Another function of the E8 that is taken from the top lines from JURA. In addition, it impresses with its even more intuitive handling and extremely easy operation.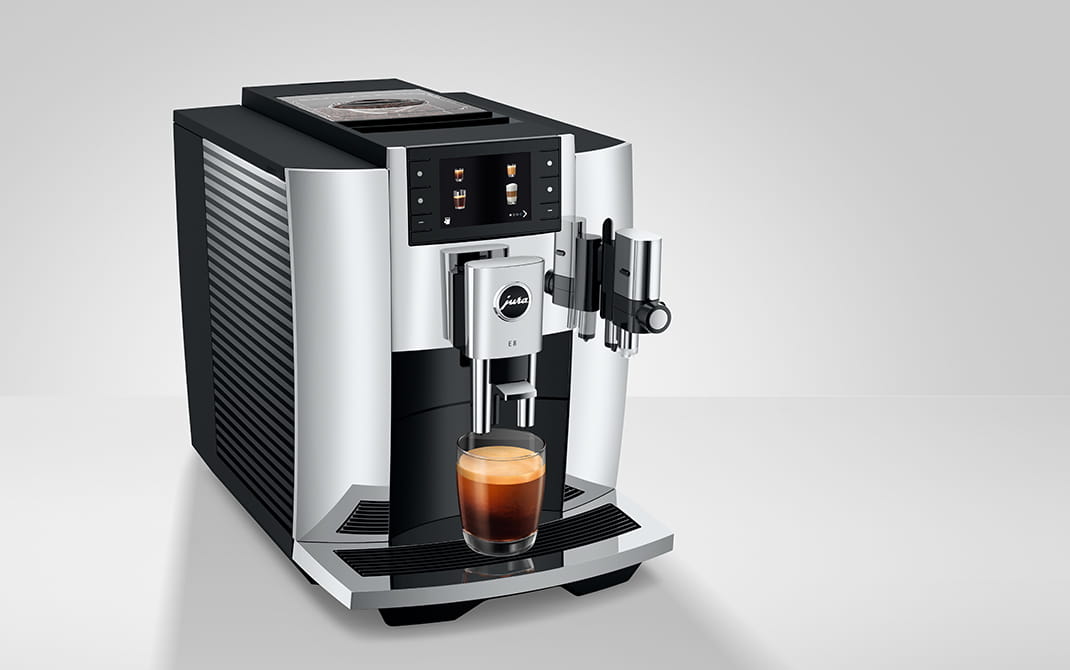 Clear and Expressive Design
High-quality materials and precise workmanship. The updated design for the NEW E8 stands for premium quality, functionality and durability.
Specialties
Products
Espresso
2 x Espresso
Coffee
2 x Coffee
Cappuccino
Cappuccino Extra Shot
Caffè Barista
Lungo Barista
Espresso doppio
Macchiato
Cortado
Latte macchiato
Latte macchiato Extra Shot
Flat white
Flat White Extra Shot
Portion of milk foam
Hot water
Number of speciality coffees
17
| | |
| --- | --- |
| JURA StandarDs | |
| Pulse Extraction Process (P.E.P.®) | Yes |
| One-Touch Lungo function | Yes |
| One-Touch function | Yes |
| Grinder | Professional Aroma Grinder |
| High-performance pump, 15 bar | 1 |
| Thermoblock heating system | 1 |
| Fluid systems | 1 |
| Milk system / interchangeable milk spout | HP3 |
| Powder chute for ground coffee | Yes |
| Aroma preservation cover | Yes |
| | |
| --- | --- |
| design and Materials | |
| Amber / white cup illumination | Yes |
| | |
| --- | --- |
| Specific Advantage | |
| Intelligent preheating | Yes |
| Smart mode | Yes |
| Transmitter supplied as standard | - |
| | |
| --- | --- |
| Operating and Programming Standards | |
| Compatible with J.O.E.® | Yes |
| Display | 2.8'' colour display |
| Programmable and individually adjustable amount of water | Yes |
| Programmable and individually adjustable coffee strength (Levels) | 10 |
| Programmable brewing temperature (Levels) | 3 |
| Programmable temperature of hot water (Levels) | 3 |
| | |
| --- | --- |
| in figures | |
| Height-adjustable coffee spout | 65 - 111 mm |
| Height-adjustable cappuccino spout | 107 - 153 mm |
| Height-adjustable hot water spout | 65 - 111 mm |
| Water tank capacity | 1.9 L |
| Bean container holding capacity | 280 g |
| Coffee grounds container (approx. servings) | 16 |
| Cable length (approx.) | 1.1 m |
| Voltage / Power | 120 V~ / 1450 W |
| Ampacity | 10 amp |
| Stand-by power | 0 Watt |
| Weight | 9.6 kg |
| Article Number | 15371 |
| Product code | E8 Chrome (NAA) |
| Width | 28 cm |
| Height | 35.1 cm |
| Depth | 44.6 cm |
(1) Jura E8
(1) Jura Care kit which includes: Pack of 2 Cleaning tablets, 1 Claris Smart Filter, User Manuals, 1 Pre-ground Coffee Scoop, 1 Hose with Connector, 1 Bottle of New Jura Cleaning pills for Milk System, 1 Microfiber Cleaning Cloth, 1 Easy Cappuccino Cleaning Container, 1 Filter Extension and 1 Water Hardness Testing Strip.
(1) 1KG FAEMA Tradizionale Espresso Beans