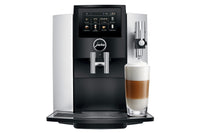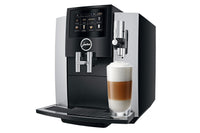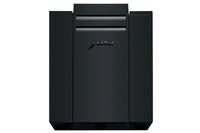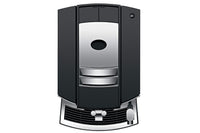 S8 Moonlight Silver
Features
Specifications
Included in the Box
So many moments of pleasure to choose from
The stylish S8 creates the full range of specialties from espresso to latte macchiato to a masterful standard of quality. With just a touch on the color touchscreen display, one of 15 different specialties flows into the cup. This is thanks to several outstanding innovations. The AromaG3 grinder is now even more precise and twice as fast, yet preserves all the delicious aroma of the coffee beans. The Pulse Extraction Process (P.E.P.®) ensures the optimum extraction time for short specialties and delivers a taste explosion for espresso and ristretto. Trend specialties finished with milk and milk foam are brought to perfection thanks to fine foam technology.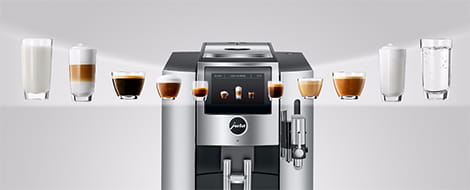 Thoroughly modern operating concept
The integrated 4.3" high-resolution color touchscreen display makes the machine incredibly simple to operate. A gentle touch with your fingertip on the screen, and your favorite beverage flows into the cup. The innovative operating concept with an eye-catching screen succeeds because it is so clear, simple and modern. Graphics and animations show every step of preparation, guiding the user through the process. The concept is designed to help you find what you want quickly. Individual preferences can be programmed in a few easy steps, allowing you to rename, move, copy or duplicate products in no time.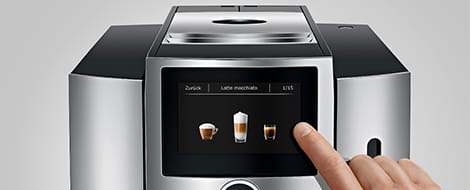 The ultimate milk foam
Characteristic JURA design reflects precision and quality down to the smallest detail. The new professional fine foam frother on the S8 is made from the highest quality materials and has a stunning look and feel. Specially designed for the preparation of specialty coffees with milk and milk foam, it makes latte macchiato and other beverages with the very best fine-textured foam – every time. Graphics and modern animations on the display make it easier than ever to use.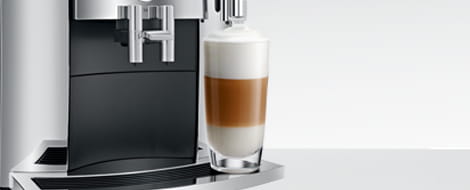 Design in top form
This machine is an aesthetic masterpiece of harmonious design. Careful attention to detail definitely puts the stylish design of the S8 in a class of its own. The high-quality, grooved water tank with a handle made of real metal and the new chrome-plated cup grille add subtle accents. The cover of the bean container, made of hand-polished die-cast zinc, embodies the quality of the complete product. Details and thoughtful touches give the S8 a unique feel which is sure to please those who appreciate good design.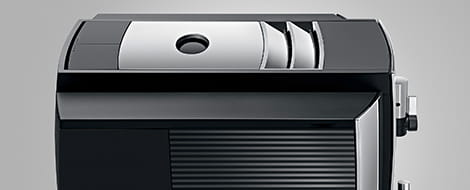 Specialties
Products
Ristretto
2 x Ristretto
Espresso
2 x Espresso
Coffee
2 x Coffee
Cappuccino
Caffè latte
Macchiato
Latte macchiato
Flat white
Portion of milk foam
Portion of milk
Hot water
Hot water for green tea
Number of specialty coffees
15
| | |
| --- | --- |
| JURA Standards | |
| Pulse Extraction Process (P.E.P.®) | Yes |
| One-Touch function | Yes |
| Grinder | Multi-level AromaG3 grinder |
| High-performance pump, 15 bar | 1 |
| Thermoblock heating system | 1 |
| Fluid systems | 1 |
| Milk system / interchangeable milk spout | HP3 |
| Powder chute for ground coffee | Yes |
| Aroma preservation cover | Yes |
| | |
| --- | --- |
| Design and Materials | |
| Amber / white cup illumination | YES |
| | |
| --- | --- |
| Specific Advantage | |
| Active bean monitoring | YES |
| | |
| --- | --- |
| Operating and Programming Standards | |
| Compatible with JOE | YES |
| Display | 4.3" Touch colour display |
| Save, Copy and Personalize Products | YES |
| Programmable and Individual amount of water | YES |
| Programmable and individuals coffee strength (levels) | 10 |
| Programmable brewing temperature (levels) | 3 |
| Programmable temperature hot water (levels) | 3 |
| | |
| --- | --- |
| In Figures | |
| Height-adjustable coffee spout | 72 - 118 mm |
| Height-adjustable cappuccino spout | 111 - 157 mm |
| Height-adjustable hot water spout | 111 - 157 mm |
| Water tank capacity | 1.9 L |
| Bean container holding capacity | 280 g |
| Coffee grounds container (approx. servings) | 16 |
| Cable length (approx.) | 1.1 m |
| Voltage / Power | 120 V~ |
| Ampacity | 10 amp |
| Stand-by power | 0 Watt |
| Weight | 10 kg |
| Article Number | 15212 |
| Width | 28 cm |
| Height | 34.8 cm |
| Depth | 44.4 cm |
(1) Jura S8 Moonlight Silver
(1) Jura Care kit which includes: Pack of 2 Cleaning tablets, 1 Claris Smart Filter, User Manuals, 1 Pre-ground Coffee Scoop, 1 Hose with Connector, 1 Bottle of New Jura Cleaning pills for Milk System, 1 Microfiber Cleaning Cloth, 1 Easy Cappuccino Cleaning Container, 1 Filter Extension and 1 Water Hardness Testing Strip.
(1) 1KG Espresso Beans