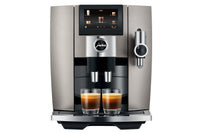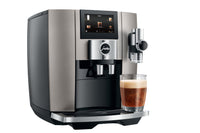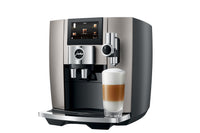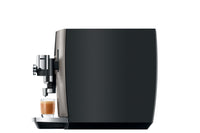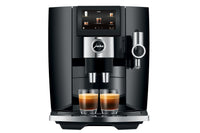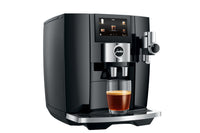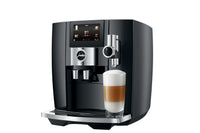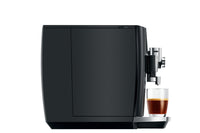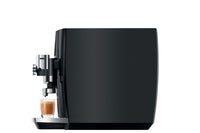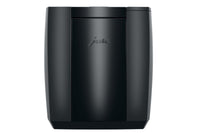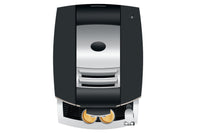 J8 - Certified Factory Refurbished
Features
Specifications
Included in the Box
Refurbished Notes:
Sweet Foam function – a new world of indulgence
Top chefs know that the secret of creating something truly special is to use pure, fresh ingredients that are expertly prepared. The same goes for exceptional specialty coffees. The new Sweet Foam function flavors the milk foam during preparation using the syrup attachment, taking indulgence to a whole new level. By choosing the type and amount of syrup, you can customize the flavor and intensity to your personal preferences. In this way, the J8 can even create popular trend specialties such as the Sweet Latte at the touch of a button.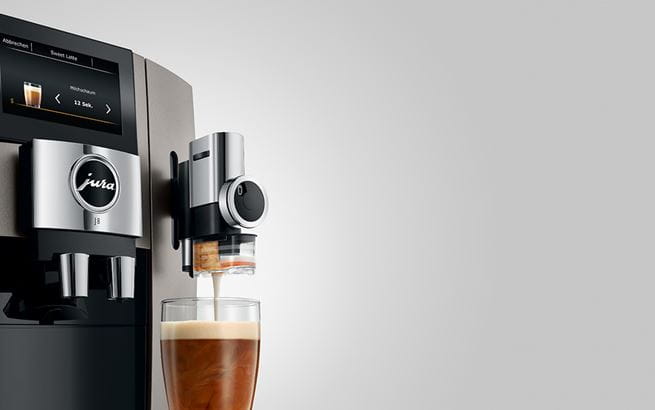 Coffee Eye – the smart cup sensor
Whether you want a classic from the central coffee spout or a specialty finished with milk and milk foam from the cappuccino spout, the Coffee Eye makes it even easier to prepare the perfect coffee. This smart cup sensor detects the position of the cup and automatically adapts the selection of specialties on the display accordingly. For even simpler and more intuitive operation.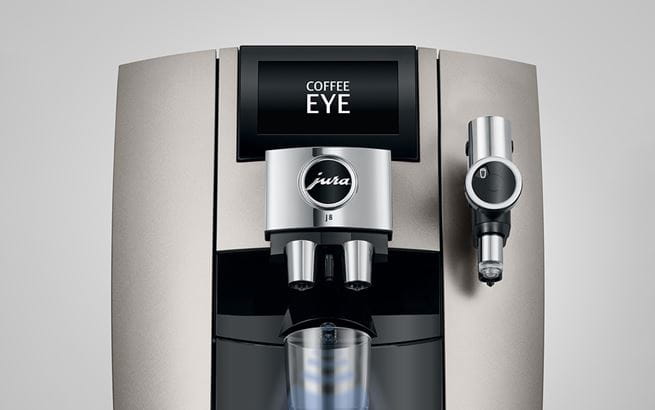 P.A.G.2+ – cutting-edge technology for the ultimate coffee
The P.A.G.2+ grinder is in a class of its own. It features sound design inspired by Formula 1 technology. The aroma control function actively monitors the grind consistency to ensure perfect results every time. Depending on the selected product, the machine will recommend setting the consistency to 'mild' or 'intense'. This controls the aroma in the cup. The grinding level can be adjusted at any time, but before and after preparation the P.A.G.2+ always goes into rest mode to maintain its performance throughout its lifetime. This means that your coffee machine will continue to provide the perfect flavor for even longer.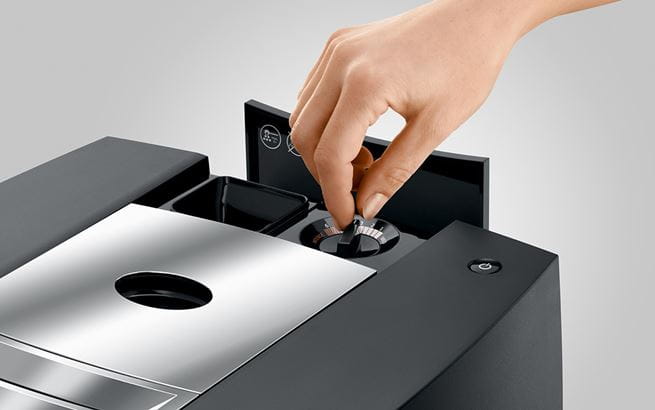 Stunning design – inside and out
The look of the J8 embodies clarity and symmetry. The quality of the machine and the expertise that went into its design are reflected in superior manufacturing standards and precision craftsmanship. The reinterpretation of the international award-winning design reveals a passionate attention to detail. From the presentation of the fresh beans to the welcoming user interface and the illumination of the aromatic finished product, everything combines to form a harmonious whole and conveys the superiority of this premium coffee machine.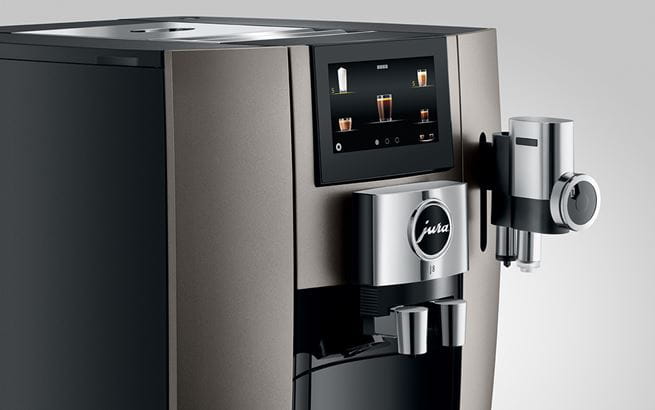 SPECIALTIES
Number of specialties
31
Espresso
✓
2 × Espresso
✓
Coffee
✓
2 × Coffee
✓
Americano
✓
Lungo
✓
Espresso doppio
✓
Cortado
✓
Cortado Sweet Foam
✓
Macchiato
✓
Espresso Macchiato Sweet Foam
✓
Caffè latte
✓
Caffè latte Extra Shot
✓
Caffè latte Sweet Foam
✓
Cappuccino
✓
Cappuccino Extra Shot
✓
Cappuccino Sweet Foam
✓
Flat white
✓
Flat white Extra Shot
✓
Flat White Sweet Foam
✓
Latte macchiato
✓
Latte macchiato Extra Shot
✓
Latte macchiato Sweet Foam
✓
Sweet Latte
✓
Sweet Latte Extra Shot
✓
Portion of milk foam
✓
Portion of milk foam Sweet Foam
✓
Portion of milk
✓
Portion of milk Sweet Foam
✓
Hot water
✓
Hot water for green tea
✓
SPECIFIC BENEFITS

Sweet Foam Function
✓

Intelligent preheating

✓

3D brewing technology

✓

Active bean monitoring

✓
Coffee Eye
✓

JURA Cockpit with maintenance status display

✓

Wi-Fi connection to home network

✓
Transmitter supplied as standard
Wi-Fi Connect
JURA COFFEE MACHINE STANDARDS

Pulse Extraction Process (P.E.P.®)

✓

One-Touch Americano function

✓

One-Touch function

✓

Variable brewing unit

5 – 16 g
Grinder
P.A.G.2+
High-performance pump, 15 bar
1

Thermoblock heating system

1
Fluid systems
1
Milk system / interchangeable milk spout
HP3 / CX3
Powder chute for ground coffee
✓
Aroma preservation cover
✓
OPERATING AND PROGRAMMING STANDARDS

Compatible with J.O.E.®

✓
Display
4.3" touchscreen color display
Store, copy and personalize products
✓
Programmable and individually adjustable amount of water
✓
Programmable and individually adjustable coffee strength
10 levels
Programmable amount of milk / milk foam
✓
Programmable brewing temperature
3 levels

Programmable hot water temperature

3 levels
HYGIENE STANDARDS

Intelligent Water System (I.W.S.)

✓
Filter cartridge
CLEARYL Smart
One-Touch milk system cleaning (automatic)
✓
Integrated rinsing, cleaning, and descaling program
✓
Monitored drip tray
✓
JURA hygiene: TÜV-certified
✓
ENERGY STANDARDS
Energy Save Mode (E.S.M.©)
✓

Zero-Energy Switch or power switch

✓
Programmable switch-off time
✓
DESIGN AND MATERIALS

Amber/white cup illumination

✓
IN FIGURES
Height-adjustable/width-adjustable coffee spout
2.6 – 4.4 in / –
65 – 111 mm / –
Height-adjustable cappuccino spout
4.2 – 6 in / 107 – 153 mm
Height-adjustable hot-water spout
2.6 – 4.4 in / 65 – 111 mm
Water tank capacity
64 oz / 1.9 l
Coffee grounds container (approx. servings)
16
Bean container holding capacity
9.9 oz. / 280 g
Cord length
43 in / 1.1 m
Voltage / power
120 V ~ / 1450 W
Current
10 A
Stand-by power
0 W
Weight
22.5 lbs / 10.2 kg
Dimensions (W × H × D)
12.5 in × 13.7 in × 17.6 in
31.8 cm × 34.8 cm × 44.6 cm
Article number, Product code
15555, Midnight Silver (NAA)
Country of production
Made in Switzerland
(1) Jura J8 Midnight Silver
(1) Jura Starter kit which includes: Pack of 2 Cleaning tablets, 1 Claris Smart Filter, User Manuals, 1 Pre-ground Coffee Scoop and funnel, 1 Hose with 2 Connectors, 1 Milk System Cleaner, 1 Microfiber Cleaning Cloth, 1 Easy Cappuccino Cleaning Container, 1 Filter Extension, 1 Jura branded storage bag for accessories and 1 Water Hardness Testing Strip.
(1) 1KG FAEMA Tradizionale Espresso Beans
You can expect the very best in our Certified Factory Refurbished products, which can be purchased at a reduced cost.
These items are classified as such for the following reasons:
It was a demo
Buyer's remorse
Returned due to incorrect purchase
Exchanged for another product
All items undergo a 360° inspection, where products are opened and meticulously cleaned and rigorously tested.
All of the work is completed by authorized JURA technicians at the JURA Hospitality Centre in Canada.
All products will come with a one year warranty that includes parts and labour.
All products will receive an authorized "Certified Factory Refurbished" sticker stating its authenticity.
All Certified Factory Refurbished items will come with the following:
Owners manual
Superautomatic machines will come with their designated Welcome Kit
Superautomatic machines will come with a 1 kilogram bag of coffee beans
------------------------------------------------------------------------------------------
CLASSIFICATION SYSTEM

A - OPEN BOX / DISPLAY MODEL - MINOR SCUFF/SCRATCH - LESS THAN 100 CUPS
B - USED / DEMO - MINOR SCUFF/SCRATCH - LESS THAN 1000 CUPS
C - USED / DEMO - MINOR SCUFF/SCRATCH - MORE THAN 1000 CUPS
(The number of "Cups" is a measurement used to track the amount of beverages the machine has prepared.)
All Certified Factory Refurbished items are sold on a first come, first serve basis. Inventory is while supplies last and is subject to change at any time.
If you have any questions regarding our Certified Factory Refurbished products, please feel free to contact us directly at info@juracanada.ca.