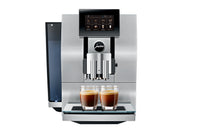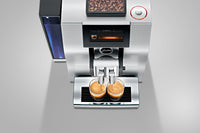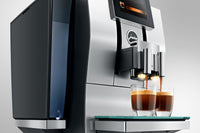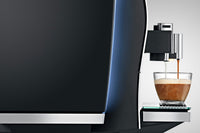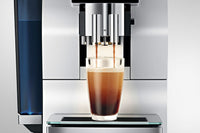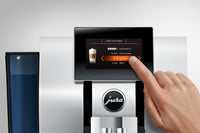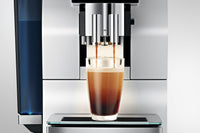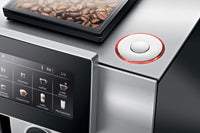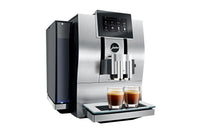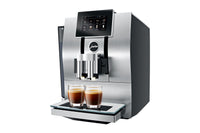 Z8 - Certified Factory Refurbished
Limited Quantities
Features
Specifications
Included in the Box
Z8 Refurbished - CLASS A (Less than 100 Coffee Preparations)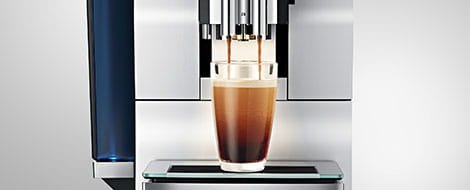 Three new specialities at the touch of a button
Inspired by know-how from the world's best baristas, the Z8 ensures long-lasting enjoyment. For the caffè Barista, the lungo Barista, and the pot of coffee, a special preparation method is used to combine the coffee with hot water during the extraction process to produce full-bodied, delicate, deliciously long specialities.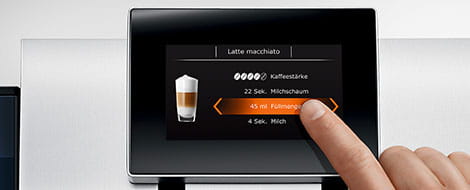 Big screen, big scene
With a precise, 4.3", high-resolution touchscreen colour display, JURA is making a mark in coffee machine user interfaces. Just as impressive as its imposing screen is the completely new operating concept. It sets itself apart thanks to its clear layout and simplicity in keeping with the times. The touchscreen literally puts all your favourite coffees at your fingertips.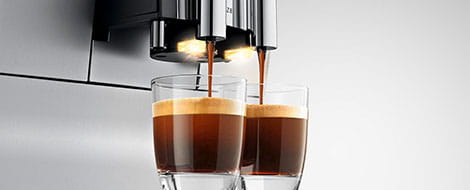 P.E.P.® and fine foam technology for unrivaled coffee quality
State-of-the-art Swiss technologies ensure top barista-style quality. The AromaG3 grinder is now twice as fast, yet preserves all the delicious aroma of the coffee beans. The Pulse Extraction Process (P.E.P.®) ensures the optimum extraction time by pulsing the hot water through the ground coffee at the exact frequency for the amount of water to create a short specialty, such as a ristretto or espresso. Even on-trend creations with milk and milk foam are exceptionally easy to produce by simply touching the display.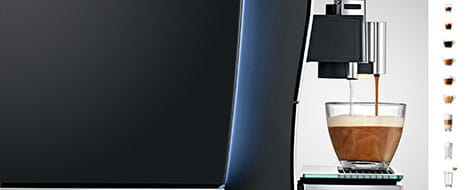 An unprecedented range of specialities
The Z8 makes a statement for variety and choice. 16 different specialities can be selected simply by touching the start screen, and a total of 21 beverages are available via the Rotary Selection. What's more, there's still plenty of scope for coming up with personalised creations and names – let coffee fire the imagination.
Products
Ristretto
2 x Ristretto
Espresso
2 x Espresso
Coffee
2 x Coffee
Cappuccino
Caffè latte
Caffè Barista
2 x Caffè Barista
Lungo Barista
2 x Lungo Barista
Macchiato
Latte macchiato
Flat white
Portion of milk foam
Portion of milk
Pot of coffee
Hot water
Hot water for green tea
Hot water for black tea
Number of products
21
| | |
| --- | --- |
| Pulse Extraction Process (P.E.P.®) | Yes |
| Variable brewing unit | 5 - 16 g |
| Intelligent Pre-Brew Aroma System (I.P.B.A.S.©) | Yes |
| Grinder | AromaG3 grinder |
| Thermoblock heating system | 2 |
| JURA fine foam technology | Yes |
| Milk system | HP3 |
| Maintenance status display | Yes |
| Integrated rinsing, cleaning and descaling programme | Yes |
| Integrated milk system rinsing and cleaning programme | Yes |
| JURA hygiene: TÜV-certified | Yes |
| Filter cartridge | CLARIS Smart |
| Energy Save Mode (E.S.M.©) | Yes |
| | |
| --- | --- |
| Programmable and individually adjustable amount of water | Yes |
| Programmable and individually adjustable coffee strength (Levels) | 10 |
| Programmable milk / milk foam temperature (Levels) | 10 |
| Save, copy and personalise products | Yes |
| Programmable brewing temperature (Levels) | 3 |
| Programmable temperature of hot water (Levels) | 3 |
| Programmable switch-off time | Yes |
| | |
| --- | --- |
| Display | Touchscreen colour display |
| Amber / white cup illumination | Yes |
| Water tank illumination blue | Yes |
| Powder chute for ground coffee | Yes |
| Sound design | Yes |
| | |
| --- | --- |
| Height-adjustable dual spout | 80 - 153 mm |
| Width-adjustable coffee spout | 21 - 50 mm |
| Height-adjustable coffee spout | 80 - 153 mm |
| Height-adjustable cappuccino spout | 80 - 153 mm |
| Height-adjustable hot water spout | 80 - 153 mm |
| Water tank capacity | 2.4 L |
| Bean container holding capacity | 280 g |
| Coffee grounds container (max. servings) | 20 |
| Cable length | 1.1 m |
| Voltage / Power | 120 V ~ |
| Ampacity | 16 amp |
| Stand-by power | 0 Watt |
| Weight | 13.4 kg |
| Width | 32 cm |
| Height | 38 cm |
| Depth | 45 cm |
| Article Number | 15192 |
(1) Jura Z8
(1) Jura Starter kit which includes: Pack of 2 Cleaning tablets, 1 Claris Smart Filter, User Manuals, 1 Pre-ground Coffee Scoop and funnel, 1 Hose with 2 Connectors.
(1) 1KG FAEMA Tradizionale Espresso Beans